Natural Diamond – Synthetic Single Crystal (SSCD) – Polycrystalline (PCD)
The Natural Diamond
Natural Single Crystal Diamond (NSCD, DN, ND)
Hardest material known in the world (10 on Mohs scale), the diamond is created in the far depth of the Earth (150 to 200 kms from the surface) as carbon, and grows slowly before reaching the earth surface as a diamond. From its growth, slow or quick, will depend on its purity and size.
Almost 150 millions of carats are extracted yearly in the world (representing 30 tons, 1 carat being 0,2g).
70 to 80% of these diamonds extracted is dedicated to industry.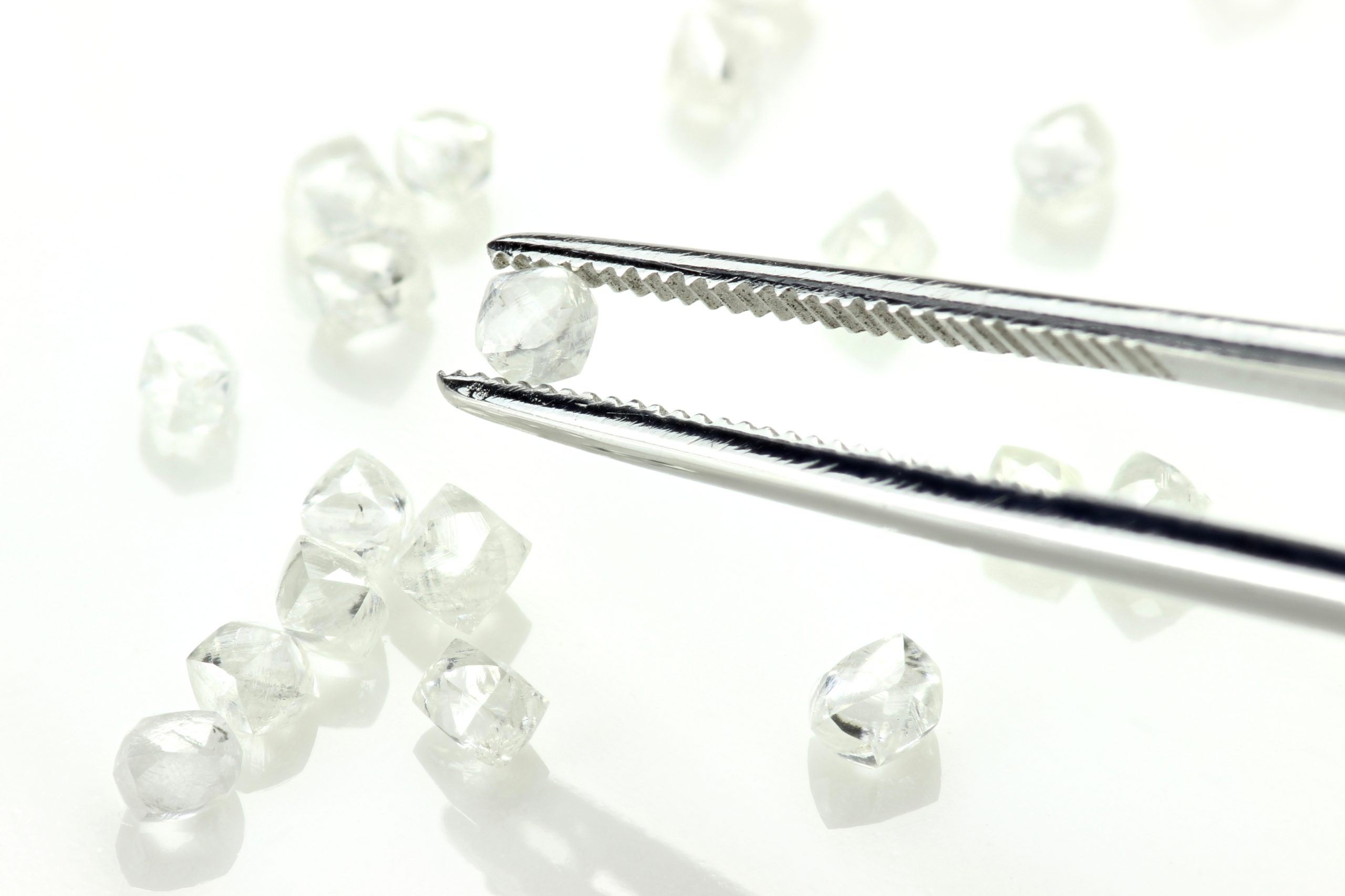 Since more than 100 years, we as BALOFFET purchase the best rough diamonds destinated to industrial applications. Our experts select each diamond in order to keep only pure stones which fit with most severe criterions (shape, weight, internal purity, no defect, internal stress measures …).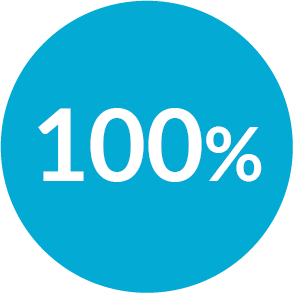 selected Balloffet diamonds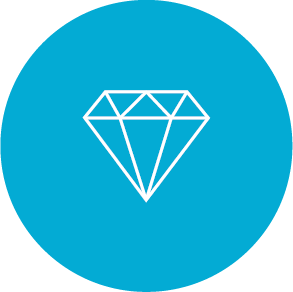 This exclusive know-how is the basis to ensure a "premium" quality to our drawing dies and diamond tools.
100% of our diamonds meet the regulatory norms in force (KPCS – Kimberley Process Certification Scheme) and therefore come from responsible mines.
We then flatten our stones based on optimal crystal orientation in order to give to our tools and dies the best possible resistance to wear during their use.
Apart of its extreme hardness which makes it very resistant to wear and particularly well adapted to high precision applications, the diamond also has the advantage to have a very low friction rate, a remarkable mix of mechanical, thermic, optical and electrochemical properties. It is biocompatible and do not generate rejection nor toxicity.
| | | | | | | |
| --- | --- | --- | --- | --- | --- | --- |
| Abreviation | Formation | Description | Density | Hardness | Thermal conductivity | Friction coefficient |
| NSCD / ND | Geologic | Cubic Monocrystalline | 3.5 | 80-120 Gpa | 600-1000 W/m/K | 0.04-0.12 |
THIS INTERNAL KNOWLEDGE, TRANSMITTED FROM GENERATION OVER THE YEARS, IS THE FIRST GUARANTEE OF A HIGH-QUALITY PRECISION TOOL, OFFERING TO THE PRODUCTS YOU ARE PURCHASING FROM US A GREAT LIFESPAN, AS WELL AS AN AMAZING RETURN ON INVESTMENT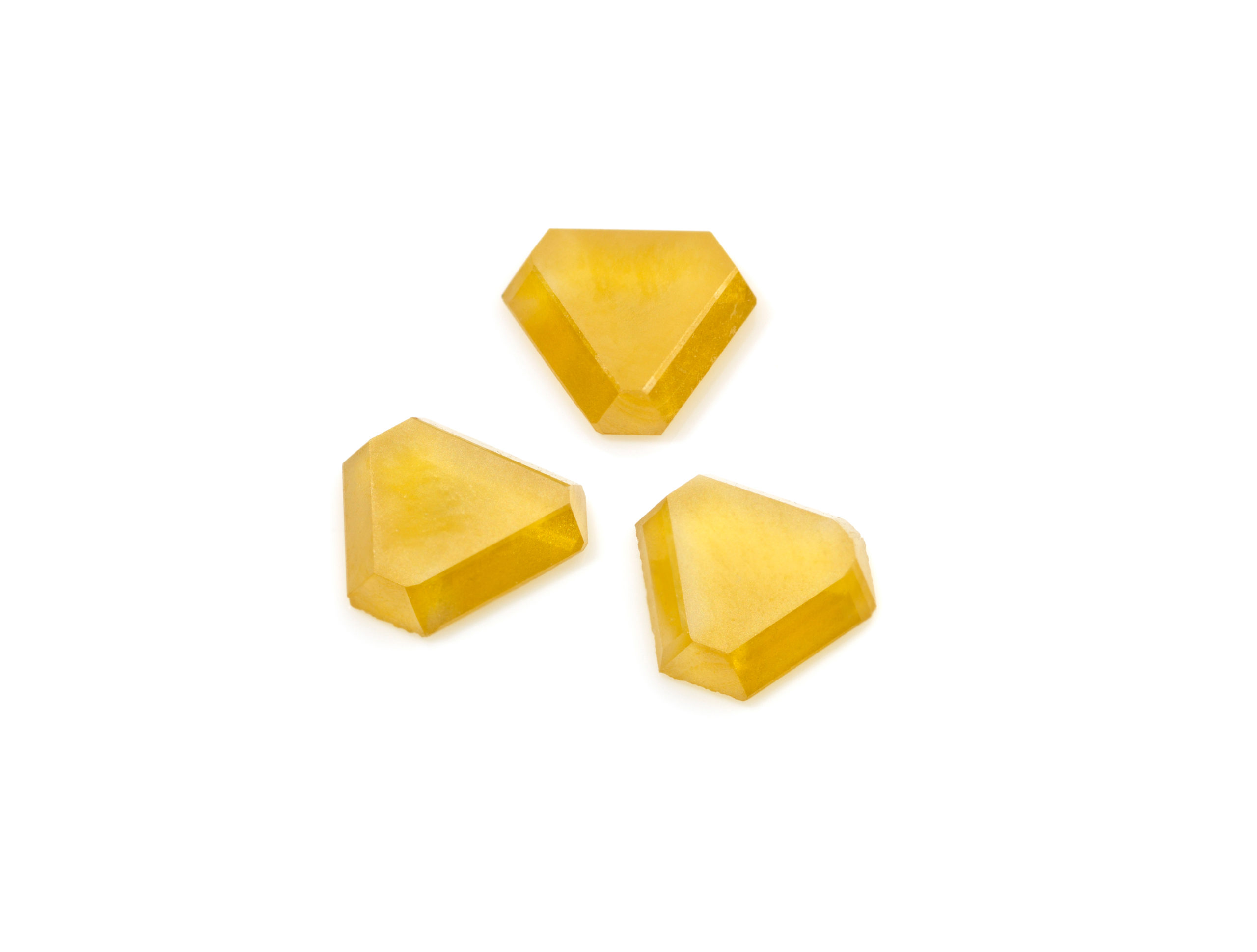 The Synthetic Monocrystalline Diamond
Synthetic Single Crystal Diamond (SSCD, Monodie)

Being made upon HPHT (High Pressure, High Temperature) standards, the manufacture of synthetic diamond consists in converting graphite into diamond.
These monocrystalline diamonds have hardness characteristics and properties very close to natural diamond ones. They have a good thermal conductivity and an excellent resistance to wear thanks to their crystallographic orientation (111).
The monocrystalline synthetic diamonds SSCD can be used for various tools such as round dies or small dimensions shaped dies (down to 20 µm) and some nozzles for HP and UHP (Ultra High Pressure) applications, specially when small radius are required (<10µm).
Balloffet deals with the most recognized suppliers in the world, homologated for the reliability, regularity and quality of their SSCD diamonds.
Technical sheet - SSCD
Key Features :
| | | | | | | |
| --- | --- | --- | --- | --- | --- | --- |
| Abreviation | Formation | Description | Density | Hardness | Thermal conductivity | Friction coefficient |
| SSCD / SC | HPHT | Synthetic monocrystalline | 3.51 | 70-110 Gpa | 800-1400 W/m/K | 0.05-0.15 |
The Polycristalline Diamond (PCD)
The Polycrystalline Diamond (or PCD) is a synthetic material invented by two Swedish researchers in 1953. Available in blanks since 1974, this material is manufactured from not orientated diamond grains, linked together through an interface. The synthetic mass is sintered inside very high pressure and high temperatures (HPHT) presses, with catalyzer metallic binder.
The PCD combines hardness, abrasion resistance, robustness and tenacity to a high thermal conductivity. Those remarkable properties and characteristics make it a material perfectly adapted and highly efficient for many metals wire drawing process.
Also convenient for many other applications requiring precision and wear resistance : calibrating tools, coating, compacting, abrasive fluids projection …
The polycrystalline diamond is used in the drawing dies manufacture either as naked (Self Supported) PVD blanks, or as Tungsten Carbide Supported PCD blanks. Some thermally stable grade (without metallic binder) can also be offered for applications at high temperature  or requiring an electrically non-conductive material.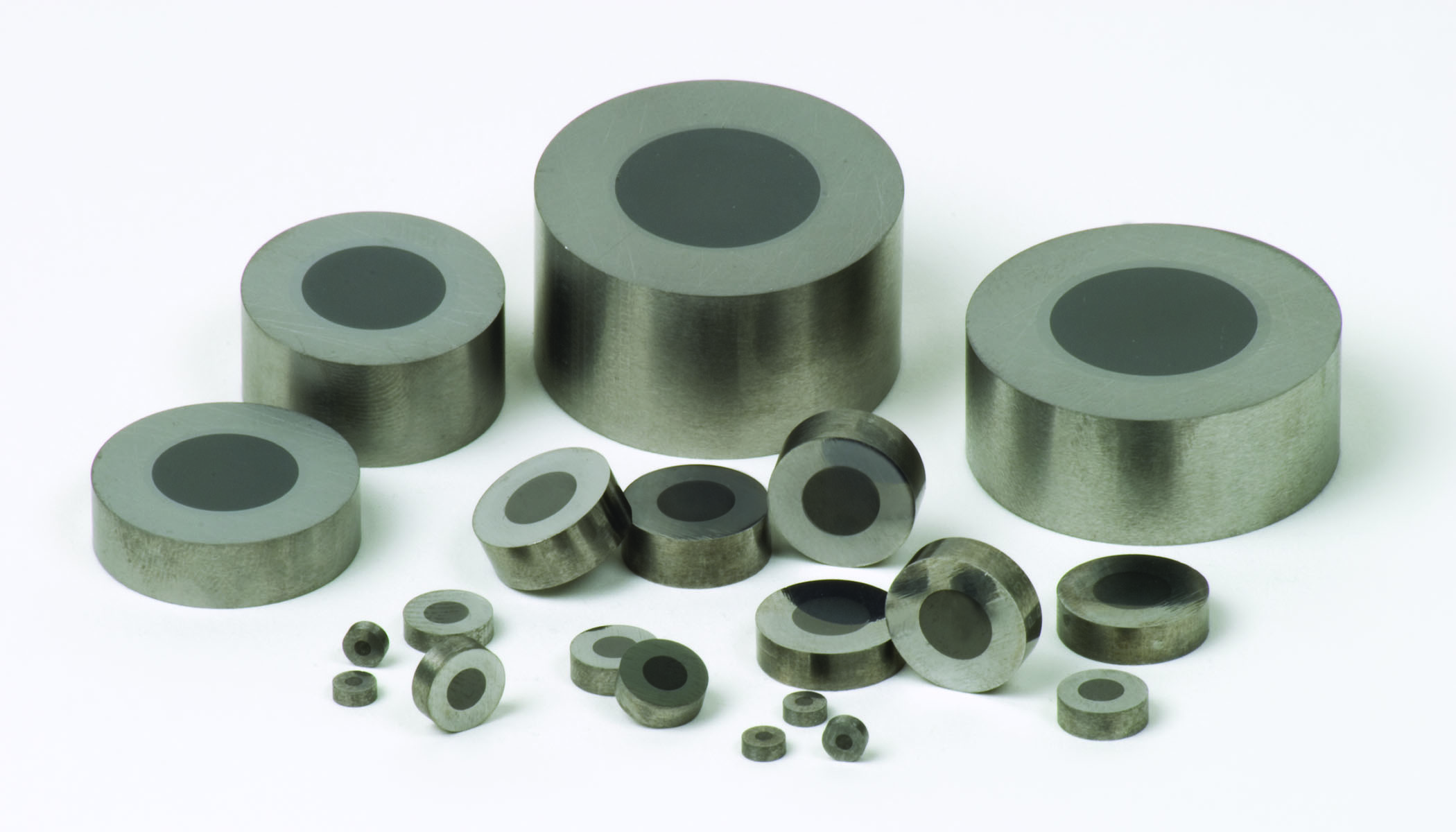 The PCD blanks allow :
covering a large range of round dies diameters (from 0.030mm to 38mm), for applications on multiwire machines, single wire, elongation blocks, stranding, …
manufacturing shaped dies (triangle, square, rectangular, oval, special shapes upon drawing…) for wires, bars and profiled tubes production.
answering to many other applications where precision and resistance are required on the tool, all with an excellent return on investment.
The best Polycrystalline Diamond brands are used (Compax™, Sumidia™, …), which qualities are recognized since years.
In the same time, our Methods and R&D departments make regular tests and controls on the various PCDs we use, which allows us to ensure a constant reliability of our tools to our customers, and also offer largest ranges (BSB).
huge PCD blanks stock available,
various grain (from 1µm to 50µm),
short delivery times and technical advice to our customers depending on their application.
PCD Blanks - BSB
PCD Blanks - COMPAX
PCD Blanks - SUMIDIA
Key Features :
| | | | | | | |
| --- | --- | --- | --- | --- | --- | --- |
| Abreviation | Formation | Description | Density | Hardness | Thermal conductivity | Friction coefficient |
| PCD  TS/MF | HPHT | Synthetic polycrystalline | 3.3 – 4.5 | 60-75 Gpa | 250-350 W/m/K | 0.3-0.6 |